Trubisky ready to chase greatness
3 min read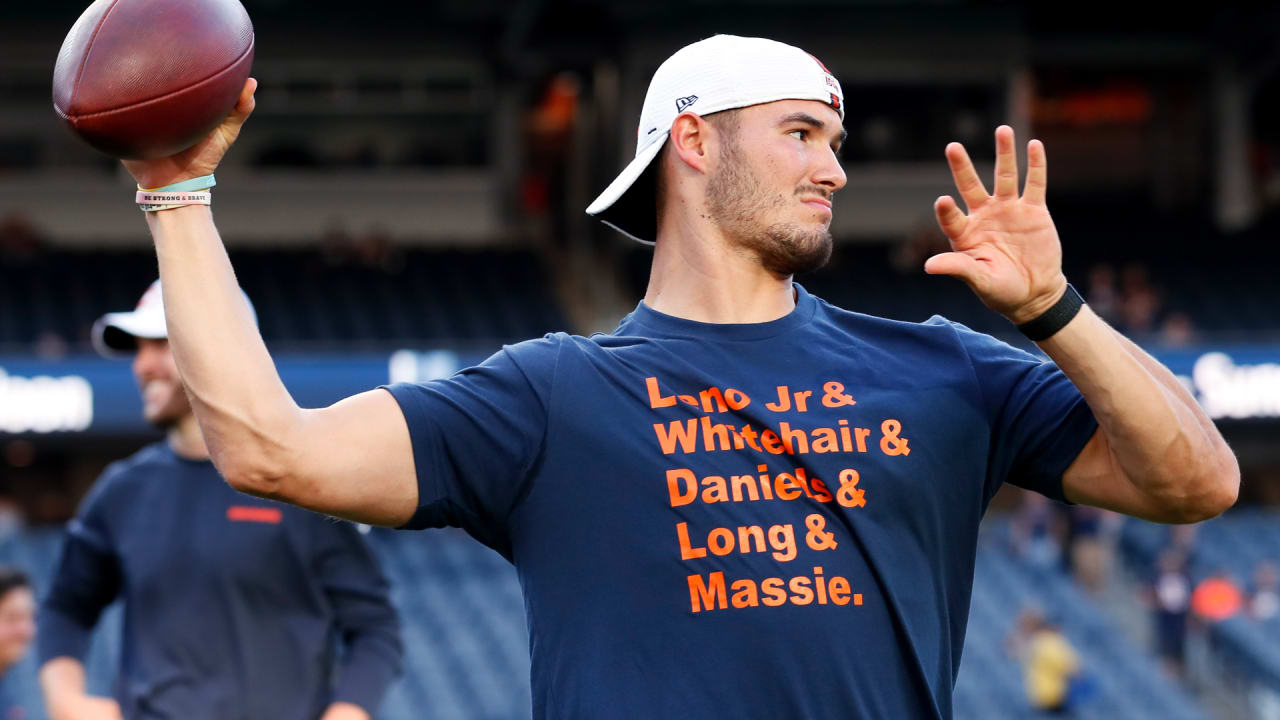 "You see the t-shirt Mitch was wearing the other day before the game?" said Nagy. "He had [the names of] his five offensive linemen on his t-shirt. That's pretty cool. There aren't moving parts there. Those are all the same guys."
Trubisky has had the same four players in front of him for most of his career: Bobby Massie, Charles Leno Jr., Kyle Long, and the recently-extended Cody Whitehair. The team spent a second-round pick on James Daniels after Trubisky's rookie season to complete the unit. In an area of the game where continuity is prized, the Bears have spared no expense.
"I know from a player's standpoint that they're making a really big effort to keep players here," said Trubisky. "Paying guys and keeping the right guys here, especially when they're good people, great players and keeping them in the building. As a player, you definitely want to be here in this amazing building playing for the city of Chicago and being a part of a great team."
That consistent offensive line is seeing a quarterback coming into his own.
"His confidence is really high right now," said Whitehair. "He sees the field a lot better being in Year Two. The 2.0 step he's taken in the offense has really helped him."
Trubisky didn't throw a single pass in the preseason, so fans will get their first chance to weigh in on the quarterback's progress Thursday night. Even without the opportunity to show off in the preseason, Trubisky will face off against the Packers with the highest expectations of his career.
It isn't only offensive line continuity that plays in Trubisky's favor. He's also had a full year to build rapport with his head coach.
"We're just on the same page," said Trubisky. "We're very similar as far as wanting to throw the ball down the field, aggressive mindset mentality and taking care of the football. I'm speaking his terminology and just being on the same page. It's all that kind of stuff."
Nagy has seen a difference in Trubisky's retention on the practice field.
"He's been doing it recently, where I'm calling the play in practice," said Nagy, "and he's cutting me off because he knows the formation and he knows, 'I got it.' He just cuts me off. I kind of like it."
To top it all off, Trubisky will be starting the 2019 season against the Bears' biggest rival.
Trubisky has tended to perform at his best against Green Bay. In his fifth professional start, Trubisky had one of the best games of his rookie season, completing 21 of 35 passes for 297 yards and a touchdown. 
Last season, he snapped a five-game losing streak in the rivalry, having one his most efficient games for the Bears,completing 20 of 28 passes for 235 yards and two touchdowns. He has yet to throw an interception against the Packers.
On Thursday, Bears fans will get their first chance to decide for themselves how close Trubisky is to actually catching great.
https://www.chicagobears.com/news/trubisky-ready-to-chase-greatness