Tim Patrick returns to field with big game,…
2 min read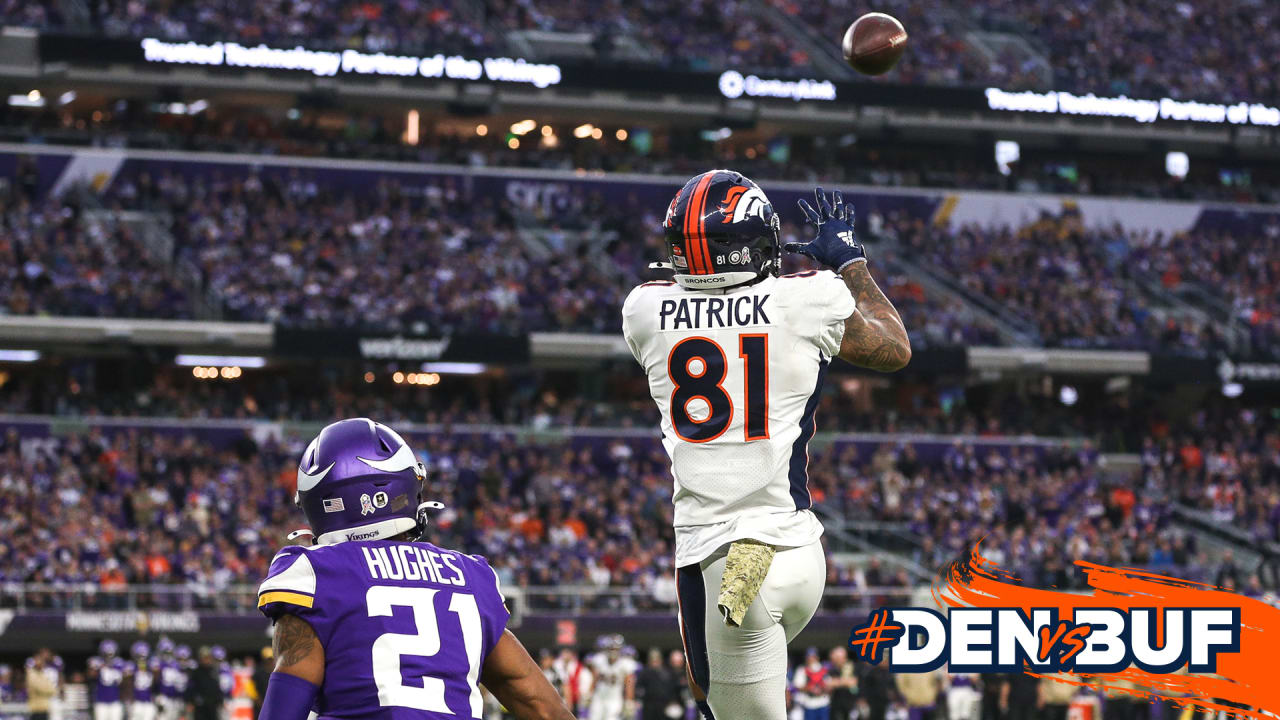 Patrick added a 29-yard catch in the third quarter that led to a field goal to put the Broncos up 23-7.
"I don't want to put a ceiling on it," said Head Coach Vic Fangio on Monday when asked about Patrick's potential. "Go as far and as fast and as high as he can go. He's a good player, good receiver, big body and a competitor. [I'm] hopeful for more the same [as Sunday] and even to a higher level."
Sutton, who combined with Patrick for 200 yards from scrimmage on Sunday, expects the same.
"The things that Tim did in Minnesota, that's what we all knew that Tim could do," Sutton said. "We were very sad and disappointed about the injury that happened to him at the beginning of the season, because we knew what he could bring to the table. To get him back and for him to go into Minnesota and do what he did, we all expected it and continue to expect it for the rest of the season."
Neither Sutton nor Patrick, though, is concerned with anything other than this week's game against the Bills.
"We're living in the now," Sutton said. "We're big people in believing in the now, and right now we're trying to finish this season off strong. We have Buffalo this week and that's the most important thing to us, taking care of Buffalo. What can we do this week to get ready for Buffalo? What can we do to prepare ourselves to go into Buffalo — a good Buffalo team — and perform at a high level. That's all we're worried about right now, for sure."
If Patrick can produce at the same level he did against the Vikings, the Sutton-Patrick duo could make quite the impact.
https://www.denverbroncos.com/news/tim-patrick-returns-to-field-with-big-game-broncos-eyeing-more-of-the-same-vs-bi