Thielen 'Feels Good,' Hopeful to Play Against…
3 min read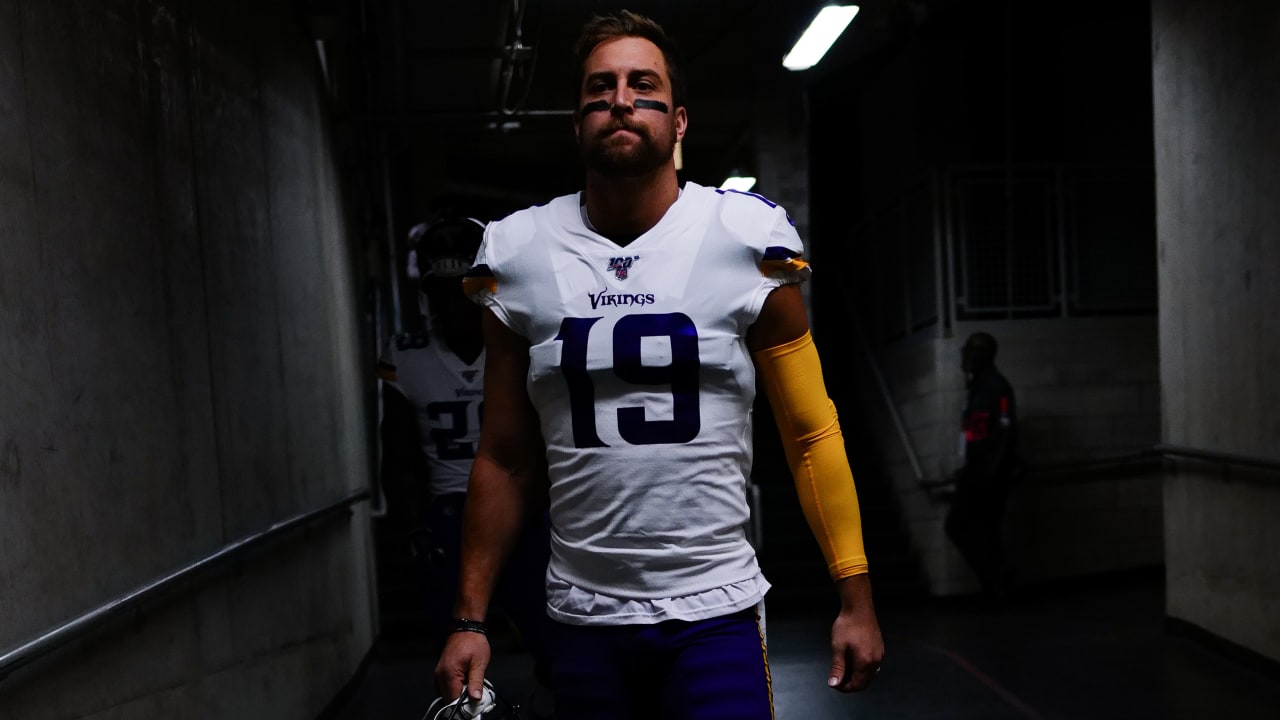 Ready for Arrowhead's loud crowd
Kyle Rudolph is one of eight Vikings players who have played at Arrowhead Stadium, the home of the Chiefs.
He has plenty of fond memories from the trip.
"I haven't played at Arrowhead since 2011," Rudolph said. "When we played at Arrowhead, we were 0-3 and they were 0-3, so it was two pretty bad football teams … yet that place was rocking.
"Now going there this weekend with two good football teams and a big game, I anticipate it's going to be even more raucous," Rudolph added.
Vikings punter Britton Colquitt, who formerly resided in the AFC West with the Broncos, has played six career games in Kansas City, the most of any current Viking.
Guard Josh Kline played there twice with Tennessee, getting a win both times, including a 22-21 comeback win in the Wild-Card Round in January of 2018.
Kline said there's nothing like playing at the venue that set a new Guinness World Record in September of 2014 when the decibel level was recorded at 142.2. For reference, a live rock band often hits 140 decibels while on stage.
"It's loud no matter what, regular season or the playoffs," Kline said. "I mean, they broke the world record for the loudest stadium, so it's a loud place to play.
"But it's also a fun place to play," Kline added.
Rudolph and Everson Griffen were with the Vikings when they last played in Kansas City back in 2011. Meanwhile, others such as Kirk Cousins, Linval Joseph, Ameer Abdullah and Riley Reiff played at Arrowhead while with other teams.
The veteran tight end said the team has been preparing for the environment this week at practice.
"The crowd noise and the music in the indoor [practice facility] is up as loud as it can go," Rudolph said. "You just have to understand you're not going to hear the person next to you."
Vikings rookie tight end Irv Smith, Jr., is one of dozens of Vikings players who have never played at Arrowhead.
But he does know of its reputation.
"Everything I've heard is that it's one of the loudest stadiums in the NFL," said Smith, Jr. "Tough place to play at, but I'm super excited to play at such a great place.
"It's us against the world basically," he added. "They're going to have all their fans there; it will be packed and loud as ever."
Smith, Jr., said the loudest opposing stadium he's ever played in was at LSU in November of 2018 while with Alabama.
But he noted that after the Crimson Tide built a double-digit halftime lead on the way to a 29-0 win, it didn't feel as loud.
"LSU night games against 'Bama are a whole other story," said Smith, Jr. "Last year when we played there, it started out loud. But then people started leaving at the end of the game."
https://www.vikings.com/news/notebook-thielen-feels-good-hopeful-to-play-against-chiefs