Jordan Hicks Happy, Healthy And Making Plays For…
3 min read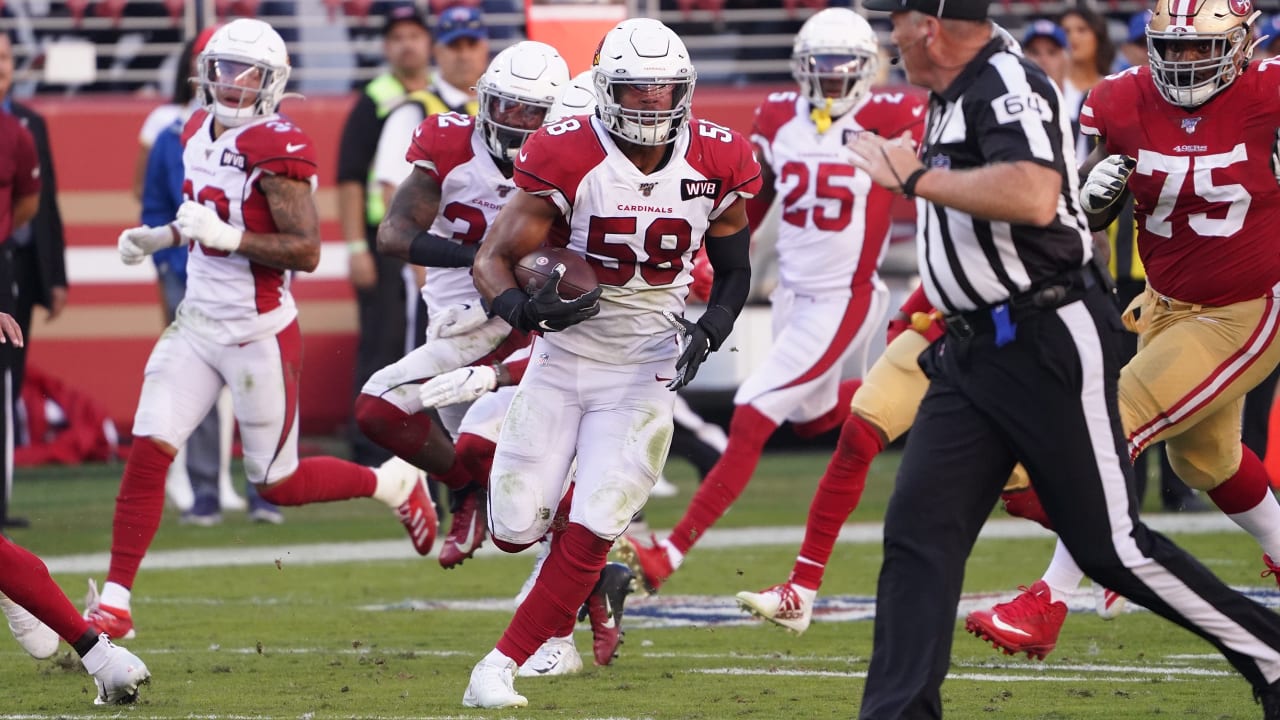 The Cardinals have issues on defense, and the weak links must be strengthened this offseason. However, there are some key pillars, and in less than a season Hicks has joined a group that already included stalwarts like Chandler Jones, Budda Baker, Patrick Peterson and Corey Peters.
"I've always felt like, as long as I'm on the field, everything takes care of itself," Hicks said. "I see myself as a playmaker. I've always been confident in my play."
Hicks took over as the defensive play-caller upon arrival and picked up defensive coordinator Vance Joseph's 3-4 scheme with ease. Hicks helps direct traffic before each snap and has a natural instinct to get in throwing lanes, as his 10 interceptions in 54 career games will attest.
"Offenses now are so complex, so you have to have a coach on the field," Joseph said. "He's my coach. He understands how I call it and understands what we need. If he doesn't get a call from me, he knows what I want. It's really a blessing to have a player like that with his football IQ."
Hicks made his name in coverage, but he's been a noticeable asset against the run for the Cardinals. Hicks is currently two tackles ahead of Green Bay's Blake Martinez and seven ahead of Seattle's Bobby Wagner for the NFL lead, and would love to finish atop that leaderboard to reward the Cardinals for their free agent faith.
"They really stuck their neck out for me," Hicks said. "To prove them right, to prove all the people who have believed in me right, to prove myself right, it would mean a lot."
NO CONTRACT EXTENSION TALKS WITH PATRICK PETERSON
Peterson said he and the team have not had any talks about a possible contract extension. The Pro Bowl cornerback signed a five-year, $70.05 million deal in 2014 that expires after the 2020 season.
"I'm always up for a contract negotiation, but no talks have happened just yet," Peterson said. "I'm just looking forward to finishing the season off strong."
Peterson, who will be 30 next season, was suspended for the first six games of 2019 and has been up and down since his return. He is aiming prove his worth in the final five games.
"I have to make sure I'm playing the best football that I can so those talks can happen and I can get what I deserve," Peterson said.
CHASE EDMONDS PRACTICES FULL ON THANKSGIVING
Running back Chase Edmonds logged a full practice on Thursday, and should be good to go on Sunday against the Rams. The only player on the Cardinals who was limited was defensive lineman Jonathan Bullard (foot).
For the Rams, tight end Gerald Everett (knee) and defensive back Darious Williams (ankle) did not practice. Safety Marqui Christian (knee) and tackle Rob Havenstein (knee) were limited.
https://www.azcardinals.com/news/jordan-hicks-linebacker-happy-healthy-and-making-plays-for-cardinals