Get a look at the current fantasy outlook for the…
3 min read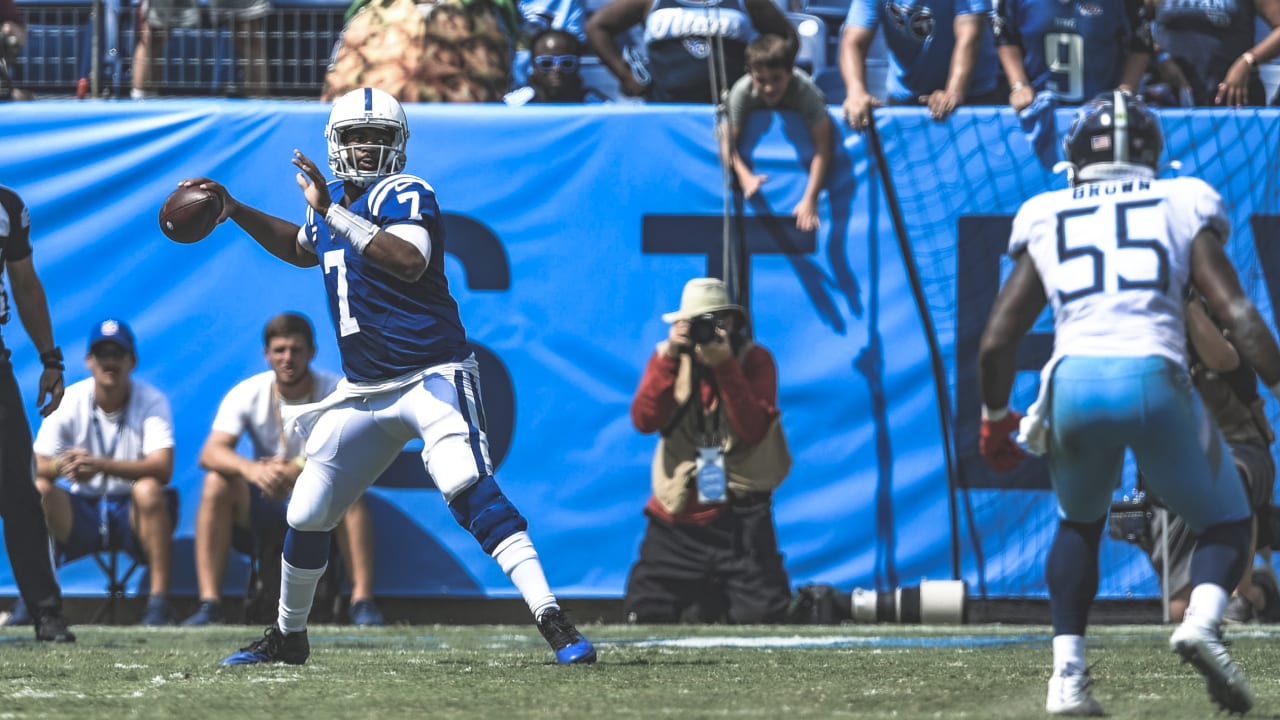 QB Jacoby Brissett
Last game: 16-of-25 passing (64.0 percent), 129 yards, 4 carries, 20 yards, 1 total TD — 13.0 FP
Last three games avg.: 15.3-of-24.7 passing (62.2 percent), 159.7 yards, 4.0 carries, 22.0 yards, 3 total TD, 2 total TO — 12.9 FP
FantasyPros Week 13 Position Rank: QB19
Titans vs. QBs: 16th (17.4 FPPG)
While the Colts have leaned heavily on the run game in the last month, Brissett's fantasy numbers have slimmed down a bit. For example, over the last five games the offense is averaging 162.8 rushing yards and 163.4 passing yards per game. For those doing the math at home, that's not even an entire yard.
Brissett's numbers in his last three starts are pretty similar to his Week 2 performance against the Titans, so there's not much reason to expect much different. The main difference is that he carved Tennessee's defense for three red-zone scores in Week 2, which is always possible again this week as the Colts rank seventh in the NFL offensively in the red zone (63.4 percent) while the Titans' defense is 30th (64.5 percent).
The Colts' passing game is likely to take on a new look going forward, as tight end Eric Ebron has been placed on injured reserve with reported injuries to his ankles, receiver Devin Funchess remains out while his collarbone heals and T.Y. Hilton suffered a setback with his calf injury and is out this Sunday (and considered week-to-week). Speedy rookie wide receiver Parris Campbell, meanwhile, is hoping to return to the lineup this week after suffering a broken hand Week 9 against the Pittsburgh Steelers; he's labeled as questionable for the game.
While predicting the Colts' passing game to suddenly bloom again is risky, Tennessee is an opponent against which it's completely possible. Before their bye week in Week 11 and subsequent domination of the Jacksonville Jaguars last week, the Titans allowed their last four opposing quarterbacks to have multiple passing touchdowns. Three of those four quarterbacks went over 300 yards, and the four as a group averaged 327.0.
Even though the Colts' run game is clicking, they would like to capitalize more in the passing game, so they could emphasize it this week. Here is Reich talking to reporters about the Colts' passing game earlier this week:
"To me the big thing is – and you guys all know this – the big stat in the pass game is yards per attempt. That is no secret. Everybody knows that. So we just need to get our yards per attempt up. You get that by chunk plays, but not just by chunk plays. You get that by being efficient in the passing game. I mean you could throw it short and have a long run. You could throw it short just to have a high completion percentage and you're still going to get your yards per attempt up. So it is just overall efficiency of the pass game. So we just need to be a little more productive there."
Week 2 statline: 17-of-28 (60.7 percent) for 146 yards (5.2 YPA), 3 pass TD, 1 INT, 7 carries for 25 yards (3.6 avg.), 1 FL — 21.5 FP
https://www.colts.com/news/tennessee-titans-fantasy-preview-2019-week-13