Broncos stumble in prime-time showdown, fall 30-6…
2 min read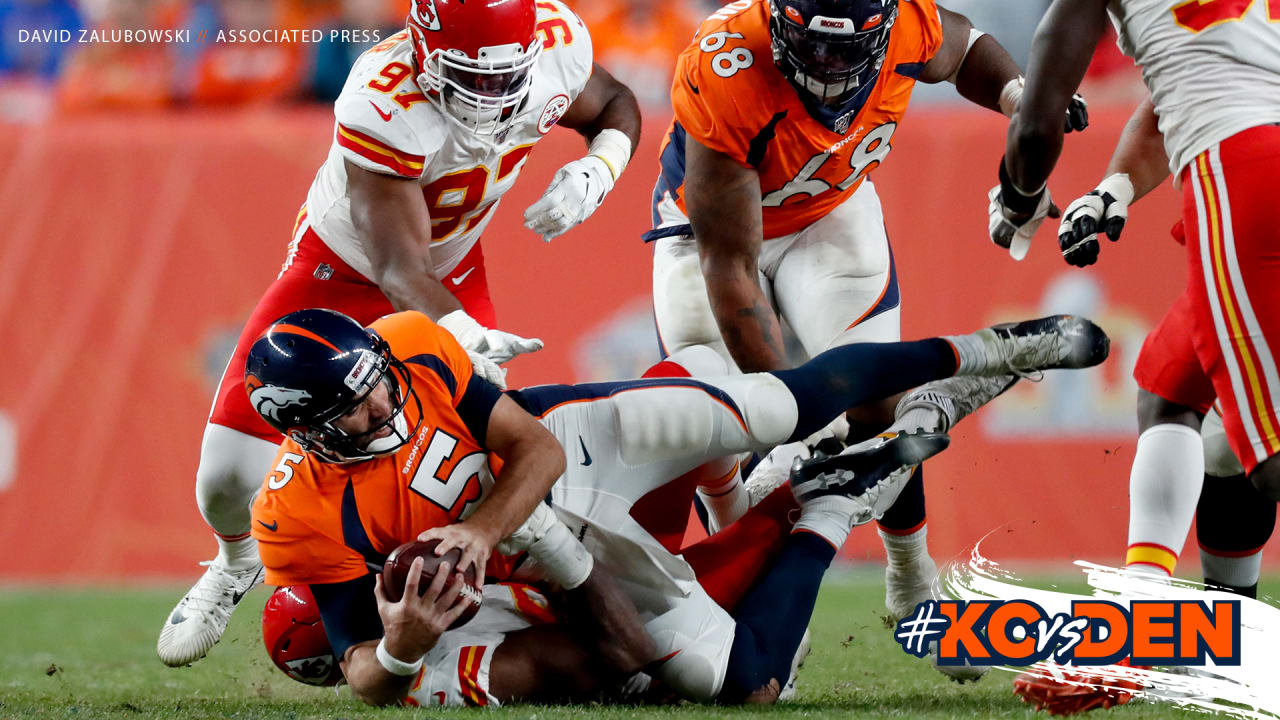 DENVER — The Broncos' winless streak against the Chiefs will last at least a few more weeks.
Led by a dominant defensive performance, Kansas City came to Denver for "Thursday Night Football" and left with a 30-6 win that dropped the Broncos to 2-5 on the season.
Denver jumped out to a 6-0 lead on their first possession of the game, but the Broncos would not score again.
The Chiefs, meanwhile, added 30 unanswered points of their own, punctuated by a 57-yard Tyreek Hill receiving touchdown.
A potential shootout between the two teams never materialized. Kansas City's defense held the Broncos to just 130 net yards after the team's initial scoring drive and sacked Joe Flacco a career-high eight times. On one of the Chiefs' second-quarter sacks, they knocked the ball away from Flacco and Reggie Ragland returned it 5 yards for a touchdown to push the lead to 20-6.
The Chiefs' defense, which ranked 30th in rushing defense ahead of Thursday night's game, allowed the Broncos to gain just 49 rushing yards through three quarters and 71 total rushing yards.
After the Broncos' initial scoring drive, they punted seven times, turned the ball over on downs, were stopped on a fake punt, lost a fumble and missed a field goal.
Denver didn't do itself any favors on offense. Garett Bolles was whistled for three holding penalties, Noah Fant failed to haul in any of his first four targets and Joe Flacco completed just 10 passes between the team's initial drive and the end of the third quarter. Flacco finished 21-of-34 for 213 yards.
The Broncos were just 1-of-13 on third down, 1-of-3 on fourth down and averaged 3.2 yards per play. The Broncos are now 3-of-27 on third down dating back to the start of their game against the Titans.
A trio of first-half special teams mistakes — allowing a 36-yard punt return, failing to gain the first down on a fake punt and missing a 45-yard field goal — also haunted the Broncos and accounted for a nine-point swing in Kansas City's favor.
Even without Patrick Mahomes, who exited the game in the second quarter with a knee injury with the Chiefs up 10-6, Kansas City did more than enough to hold on in the second half.
The Broncos' defense, which held the Chiefs to field goals on short fields after allowing an opening-drive touchdown, kept Kansas City out of the end zone on five consecutive possessions. Backup quarterback Matt Moore found an open Hill in the third quarter to ice the game and end that streak.
Denver's losing streak against Kansas City, which now stands at eight games, would not come to end.
https://www.denverbroncos.com/news/broncos-stumble-in-prime-time-showdown-fall-30-6-to-chiefs