Bears discuss positive trend in second half
4 min read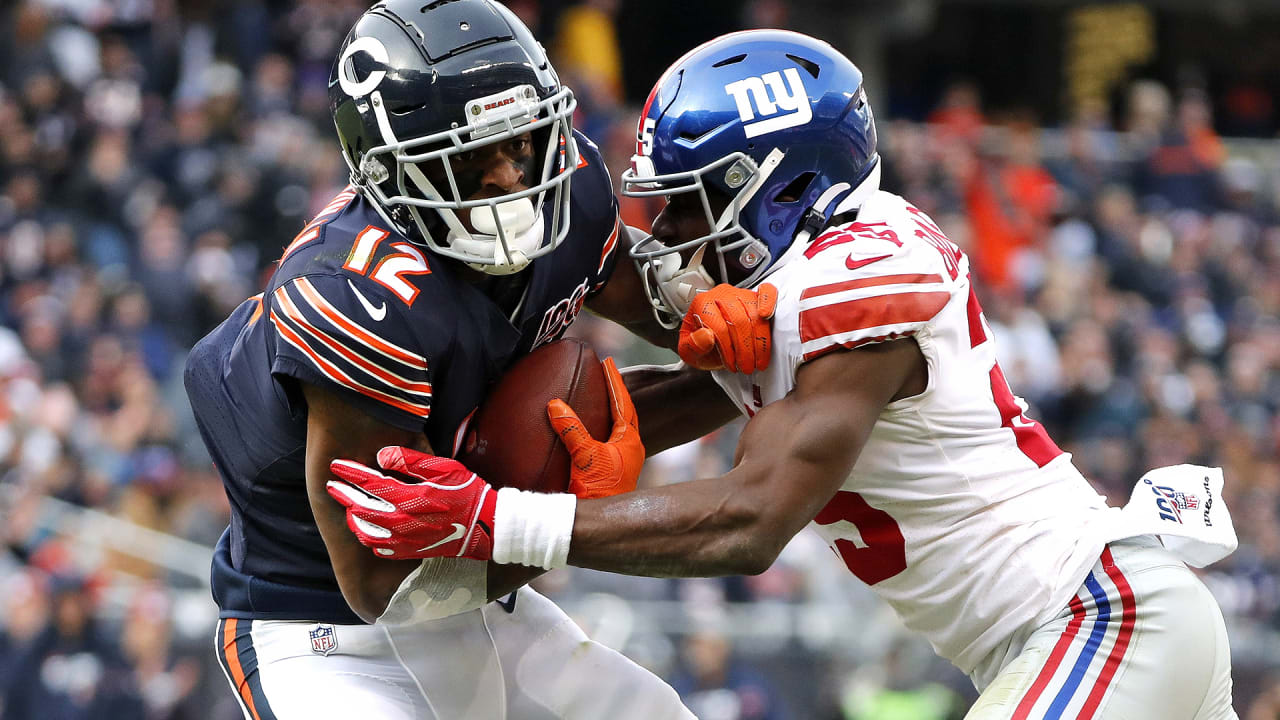 The contradiction isn't lost on Trubisky.
"It's been good, but we want to start the first quarter like that," said Trubisky. "We're making adjustments at halftime, but we have to come out of the gate ready to go and have success right away and play four quarters instead of just starting off the second half really well."
Neither head coach Matt Nagy or Mark Helfrich could say what accounted for the difference. Helfrich noted that difficulties starting the game have been varied and defy a common explanation.
"It's not, 'Hey, it's this guy every time, it's this scheme every time, it's this defense every time,'" Helfrich said. "It hasn't been. It's a drop by this guy or a drop by that guy or missed throw or protection or scheme on us. If it was easy, we would have addressed it."
The second half scoring drives have a few unifying threads. All include at least one play of 15 yards or more. Added together, the Bears have called an equal amount of passing and running plays, though the Bears went hard on the run against the Eagles and Chargers, while the last three games have seen drives powered mostly through the air.
On Sunday, Trubisky completed 3 of 4 passes for 55 yards. He put an exclamation mark on the drive by connecting with Allen Robinson II for a 32-yard touchdown.
"Everybody got off to a good start," said Helfrich, "protected well, played cleanly. It wasn't first-and-20. (There) wasn't drops. It wasn't this or that. It was playing clean and just kind of playing on the front foot."
Nagy has referred to "playing in front of the chains," or gaining rather than losing yards on the first two plays of a drive, as one of the necessities for his offense to find its rhythm. On several game-opening drives, sacks and penalties have broken momentum. 
The contrast doesn't just exist on opening drives. The Bears currently rank 30th in the league in scoring offense but rank second scoring offense in the third quarter.
Those opening second-half drives represent more than half the touchdowns scored by the Bears over this period. For reasons that no one on the team or staff can seem to articulate or agree upon, the Bears offense transforms into one of the most efficient in the league immediately following halftime.
Running back Tarik Cohen said after Sunday's game that he sees a difference in the team's psyche after halftime.
"It's the confidence coming out of the half," said Cohen. "We know what we've seen, and we have a feel for the players from the other team, and we have a feel for what we do well."
Left tackle Charles Leno believes that changes to the gameplan are what made the difference against the Giants.
"Honestly, the adjustments," said Leno. "We made some adjustments and came out with some more energy, and we started making plays. Mitch was dicing them up. We got some plays that we really liked, and we called them, and it was all good."
Trubisky seems to agree with Leno, though he emphasized that the team needed to start playing at third-quarter efficiency all game long.
"We know what they are giving us," said Trubisky, "and we're able to make those adjustments at halftime and come out and just kind of play our game. But we have to do better studying throughout the week and know what they are going to start the game in and have those looks ready to go. Obviously, playing a team in our division that we are familiar with hopefully that helps us get off the faster start."
Still, Nagy sees the trend as a positive sign. In the first six games of the season, the Bears had only scored once to open the second half: a field goal after getting the ball deep in Vikings territory. Over the last seven games, the Bears have trailed at half in five, and led by one and two points in the others.
"What I take from that is when things aren't going well, our guys aren't just folding up shop," said Nagy. "They're understanding let's make some corrections and let's get better."
https://www.chicagobears.com/news/bears-discuss-positive-trend-in-second-half